Lincoln High School


Class Of 1961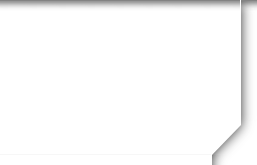 Not a member?
JOIN HERE
Find and click on your name.

UPCOMING BIRTHDAYS

WHO'S ONLINE NOW
No registered users are online right now.
MISSING CLASSMATES
Know the email address of a missing Classmate? Click here to contact them!
WHERE WE LIVE
Who lives where - select from the dropdown to find out.




Show Classmates on map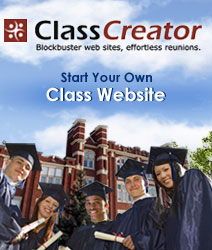 ANNOUNCEMENTS
Welcome to the Official LHS Class of 1961 Website
Since 2009 - over 226,500
.....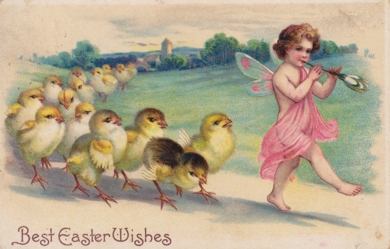 .....
We are very sorry to pass on the news that Wilma Ann Iburg Finley died on March 9, 2023. Click here for photos and more details from her "In Memory" page.
.....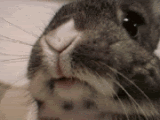 Scroll waaaay down for March 2 dinner photos at The Eatery, March 8 guys dinner and girl's lunch photos.
In 2023, LHS guys will meet every month on the second Wednesday at 6 pm at Mulligans. Girls gather at Valentino's, 33rd and Holdrege, 11:30 am on the 3rd Thursday. For a fun time get out and see old friends.
.....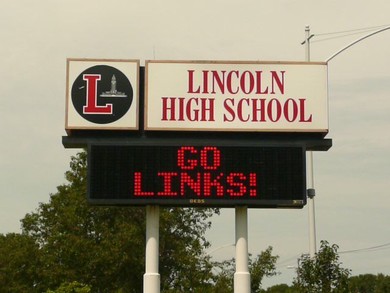 "Life at the HIGH: 150 years of Lincoln High School"
Click here for a YouTube video made by Riek Bol that started as a senior project in 2022. He is the same young man who created the short video we watched at the 61st reunion but this is a much newer version. It even includes some comments from Biff Pfeiff recorded at our reunion banquet. In the beginning it has spectacular drone footage of the LHS building. Congratulations Riek!
.....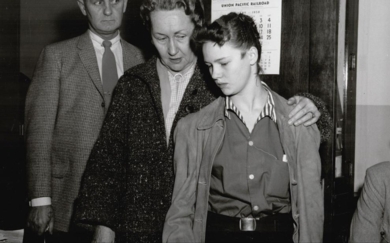 "The 12th Victim"
Showtime 4-part docuseries makes a case for Fugate innocence
Available on Showtime On Demand.
Click here for the Lincoln Journal Star article.
.....
Development plans for the Gold's Departent Store building have changed. The 4-story section of the building on 10th Street is being demolished. The 6-story section on 11th and O Streets is being remodeled into a Hampton Inn Hotel. Click here for the LJS article and video. Call it "progress".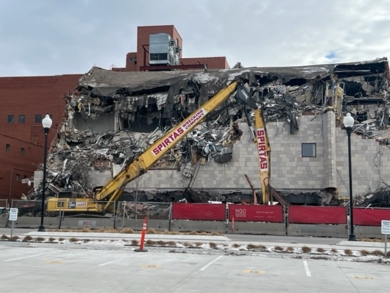 10th Street just south of "O"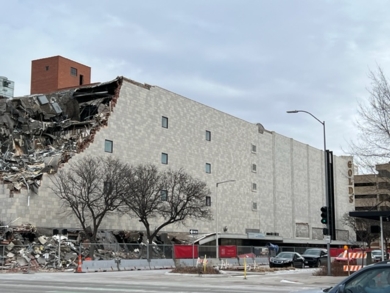 10 &"N" Street looking northeast.
.....
All Deceased Classmates - Click Here
Deceased Family Members - Click Here
.....
LINCOLN HIGH NEWS
Lincoln High 2019 grad Darius Luff placed third in 60 meter hurdles at the NCAA Indoor Track 2023 Finals this weekend. Darius was also the Big Ten champion in the same event and had the top NCAA qualifying time. Great achievements at this level.
Congratulations Darius! Click here for the article.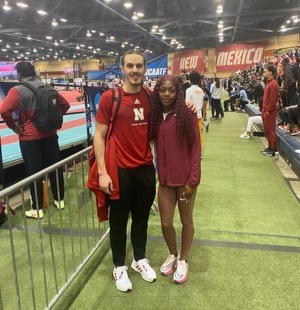 At NCAA finals are Darius Luff, (LHS '19) and Dajaz DeFrand, sprinter, (LHS '22).
....
Girls BBall Team Goes to State - 2/24/23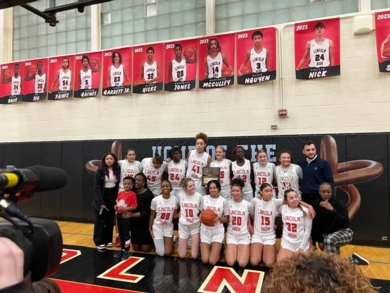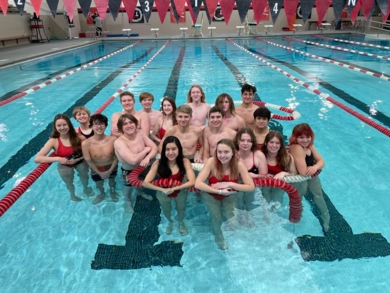 LHS Swimmers and Divers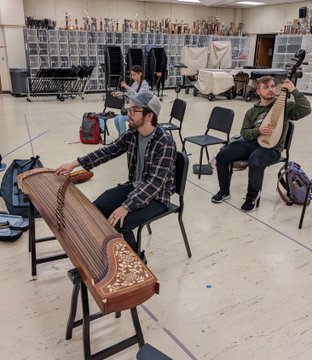 LHS rceives donation of instruments from China.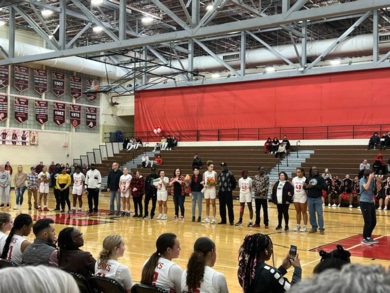 Basketball Awards Night
On February 14th at awards night, LHS honored the eight seniors from the basketball team. All of them are going on to play college ball: one to play softball, one to play volleyball and six to play basketball. What an amazing group of young women.
.....
La'Rae Pickens-Bonebright was sure that she wanted to be a teacher. And also sure she wanted to attend Lincoln High and UNL. Click here to see how she fulfilled her dream!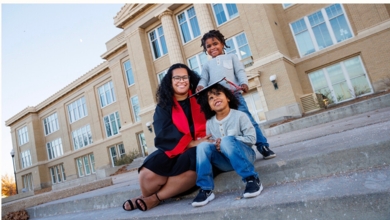 .....
New Husker Football Coach Matt Ruhle visited Lincoln High School on Friday to recruit LHS football star Beni Ngoyi (pictured here) who has been committed to Iowa State. Keep your fingers crossed.
UPDATE: We send Congratulations to Beni Ngoyi on accepting a football scholarship to Iowa State University. Cheering for our LINKS near and far!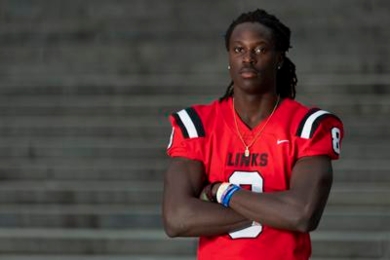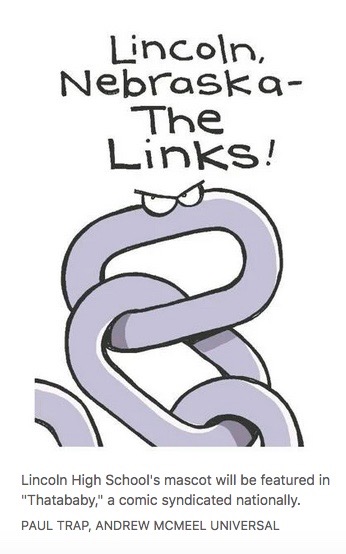 Lincoln High Mascot, the Links, is featured in a syndicated cartoon "Thatababy" by Paul Tapp. Click here to see the fun article and why the Links were chosen in the "Mascoties" special issue.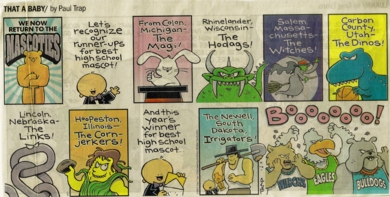 .....
PHOTOS OF THE 61ST REUNION!!!
Click here for the
Reunion Photo Gallery to date. Send your photos.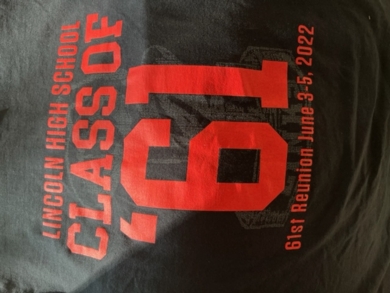 .....
The LHS library media center staff has completed a huge project of digitizing LHS history and records from their collection. It includes photos, Advocates, LINKS yearbooks and other sources. Click here to reach the web site and enjoy the search through our history. Huge thanks to the media staff from the Class of '61!
....
MORE LINKS IN THE NEWS
CONGRATS!!
.....
LHS's Renee Jones named 2023 Nebraska Teacher of the Year
The award is "bestowed annually to teachers who are exceptionally dedicated, knowledgable, skilled and who have the ability to inspire students of all backgrounds and abilities to learn." Click here for the full LJS article.
.....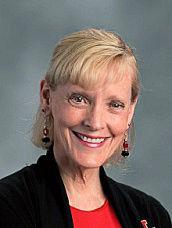 Deborah McGinn, LHS Teacher for nearly 40 years, is featured in a front page LJS article about her LHS career and now her retirement at Union College as a writing consultant. Click here for her love story about teaching and Lincoln High. "Another Lincoln High job well done" is used to describe Deb.
.....
Senior Riek Bol creates his gift to Lincoln High, a video showing the 150 year history of the High. Click here for the LJS article. Riek says there isn't another high school in the state that is more connected than LHS. Go Links!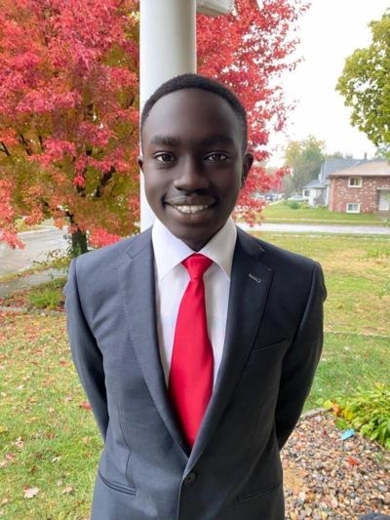 2023 LHS GATHERING INFORMATION
Scroll down for gathering photos.
Please Join Us - Always Room for More.
LHS Monthly Dinners for the 2023 year will always be on the first Thursday of the month at 5 pm at The Eatery, Van Dorn Plaza.
PLEASE NOTE: In 2023, LHS guys will meet every month on the second Wednesday at 6 pm at Mulligans. Next dinner, April 12.
LHS Girls meet the 3rd Thursday of each month at Valentino's, 11:30 am, 35th and Holdrege. Next meeting March 16.
PUT THESE DATES IN YOUR 2023 CALENDARS
| | | |
| --- | --- | --- |
| '61 LHS DINNERS | GUYS DINNERS | GIRLS LUNCHES |
| Jan. 5 | Jan. 11 | Jan. 19 |
| Feb. 2 | Feb. 8 | Feb. 16 |
| March 2 | March 8 | March 16 |
| April 6 | April 12 | April 20 |
| May 4 | May 10 | May 18 |
| June 1 | June 14 | June 15 |
| July 6 | July 12 | July 20 |
| Aug. 3 | Aug. 9 | Aug. 17 |
| Sept. 7 | Sept.13 | Sept. 21 |
| Oct. 5 | Oct. 11 | Oct, 19 |
| Nov. 2 | Nov. 8 | Nov. 16 |
| Dec. 7 | Dec.13 | Dec. 21 |
Join classmates at the any and all events! All classmates are welcome!
LHS Monthly Dinners are always at The Eatery Party Room

March 2, 2023 LHS Monthly Dinner at the Eatery
Photos from the February 1, 2023 LHS Monthly Dinner at the Eatery
Photos from the January 5th, 2023 LHS Monthly Dinner
Girls Lunch
Girls Lunch, March 16, 2023
Valentino's on Holdrege
Photo by Donna E not pictured.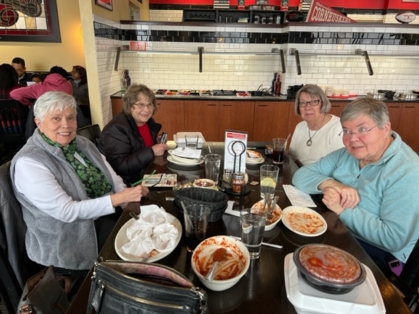 L. to R. Karen Dahlbeck Nuttleman, Shiela Thomas Alemzadeh,
Vi Marks Baker, Mary Ann Meisner.
GUYS DINNERS
Guys Dinner, March 8, 2023 at Mulligans'.
Photos by Dave Drevo.
Photos below are from the Feb.8, 2023 Dinner at Mulligan's.
Photos below from the January 11, 2023 Guys Dinner at Mulligan's.
We'd like your help!
PLEASE pass along addresses, emails, cell phones, land lines and health status regarding our LHS classmates. Any phone calls you would like us to make, we will do gladly.
It has always been the goal to compile a complete class list. All LHS students who attended LHS for part or all of the years of fall 1958 through spring 1961. This list appears on this website under "Classmate Profiles". For most we have their address. But never sure if we're current. So please, pass along what you know. Any name with no symbol following it, is a classmate who has not joined the website.
Future LHS Class of 1961 Reunion plans will be sent via U.S. Mail to everyone for whom we have an address. The LHS Class of 1961 website may be accessed by any classmate with an email address. To join the website click on your name under "Classmate Profiles" and follow the directions. Much more class information is available and shared regularly on the website for those who would like to use it.
Click "Contact Us" - on the right, top of page.
Thank you!
• • • • •
Historic 1920 Photo of LHS