Lincoln High School


Class Of 1961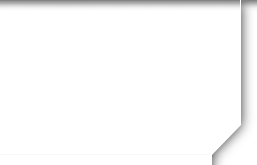 Not a member?
JOIN HERE
Find and click on your name.

UPCOMING BIRTHDAYS

Show More
WHO'S ONLINE NOW
No registered users are online right now.
MISSING CLASSMATES
Know the email address of a missing Classmate? Click here to contact them!
WHERE WE LIVE
Who lives where - select from the dropdown to find out.




Show Classmates on map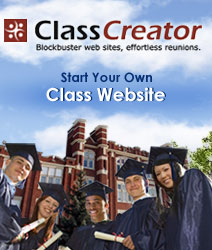 ANNOUNCEMENTS
Welcome to the Official LHS Class of 1961 Website
Since 2009 - 166,200 Site Visits - GO LINKS!
.....
The Cornhusker Hotel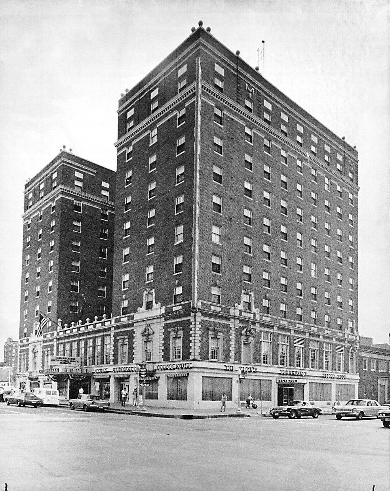 Click here for an extensive LJS article and photos of the Cornhusker Hotel from the beginning when in 1925 it was built on a block formerly occupied by a church to the eventual implosion and razing in 1982 to make room for an entirely new hotel. It took one year to build, opening in July 1926, and only minutes to bring it down.
.....
"She loved her school" writes Cindy Lange-Kubick, LJS columinist, about 16-year-old Lincoln High student leader Zainab Funnah (pictured below right) who wanted to show that "Black is Beautiful". Her goal was to "empower one another and build community" thus her photography project was born last week at Pioneers Park. Click here for the LJS story and photos.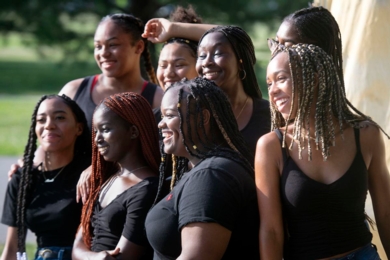 .....
The Pershing Auditorium block at 14th and N finally has a redevelopment plan for housing, shops and new downtown library. The project is being called "Mural" after the 14th street murals above the front entrance. Pershing opened in March, 1957 and closed when the new Pinnacle Bank Arena opened in 2014. Omaha group selected for the contract. Click here for the LJS story.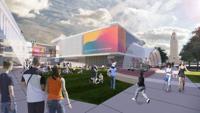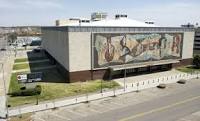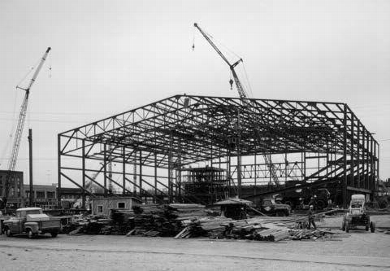 Original construction in 1957
.....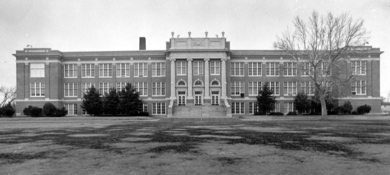 Click here for Whittier Junior High School PhotoFiles.
"Whittier opened at 22nd and Vine streets as the nation's first building constructed exclusively for junior high use. It was home to students until 1977." From the Lincoln Jr. Star PhotoFiles 6/10/20. Click here for photos taken at the September 2010 Open House following renovations done by the University of Nebraska.
.....
Lincoln youth (many from LHS) organize peaceful protests in Lincoln to keep the issues out front.
Click here for LJS snapshots of these remarkable kids. Proud to be a link.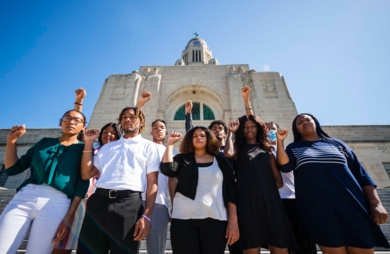 .....
Local Pandemic Update 7/14/20
Lincoln/Lancaster County: 2,182 cases, 13 deaths.
Nebraska: over 21,444 cases and 298 deaths.
Highest percentage of positive tests (over 72.3%) are ages 20-59.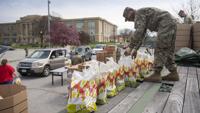 NE National Guard provided support for widespread flooding in 2019. In 2020 Guard soldiers distribute food from LHS parking lot.
.....
Sheltering at Home
Day 121
(Began counting March 15th)
.....
Lincoln High Grads in News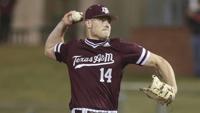 2017 Links Stand Out Cam Wynne leaves Texas A & M for Husker Baseball Team. Click here for LJS article.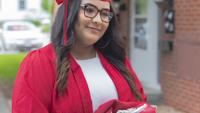 Eagle feather symbol of achievement for Native American LHS grad. Click here for LJS article.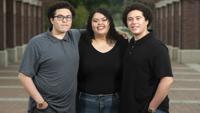 LHS siblings alter college plans due to pandemic. Click here for LJS article.
.....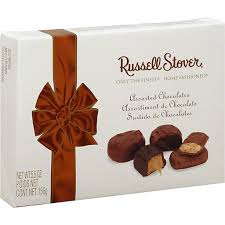 Click here for a LJS photo slide show about Russell Stover's.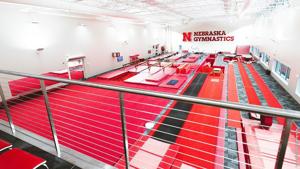 The new Francis Allen Gymnastics Training Center
Click here for the LJS article about the new facility on Innovation Campus (old State Fair grounds). Includes a quote from Francis, former National Champion Nebraska and Olympics Team coach.

Cathy Stump Rauch offers the following on making masks.
.....
Due to the coronavirus and restaurant closings LHS Monthly dinners and other classmate gatherings are on hold. As the situation improves we will be back in business. So please take care of yourselves as we all look forward to the "new normal"!
.....
Sadly another Link has passed. Michael D. Loos died Saturday morning, March 14, 2020 of lung cancer. Our '61 classmates send condolences to MaryAnne and his girls. Click here for Mike's "In Memory" profile where more detail has been added. Comments and memories of Mike may be added at the bottom of his profile.
.....
Words of encouragement are needed for Gretchen Greenwald Bomberger who is being treated for bladder cancer. Click here for the News and Concerns page containing Gretchen's contact information.
.....
Photos from the March 5 LHS Dinner and the March 11 Guys Dinner are posted below. Scroll waaaay down!
.....
We recently received sad news from Janell Winsor Dressen that Jenny Whittington Corman died on August 7, 2018. There was no notice in the paper nor memorial service. For more details click here on Jenny's "In Memory" page. We extend belated condolences to her family and to all who knew her.
We are also sad to share news of the passing of our classmate, Judy Simpson McFadden, on February 20, 2020. Click here to see Judy's "In Memory" page for details. Condolences to Judy's famiy from the Class of 1961.
.....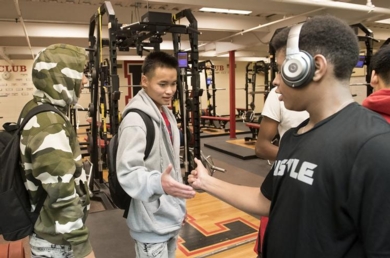 After conflict, Lincoln High Students are learning to appreciate differences. Click here for the LJS article by Maragaret Reist.
.....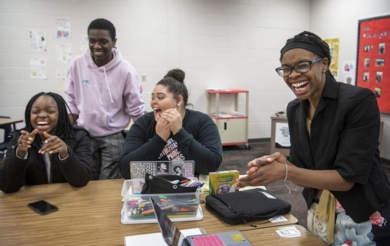 Click here for a recent Cyndy Lange Kubik column featuring Mar'la Overstreet, former LHS student and current LHS teacher, who is teaching English and creating future student leaders.
.....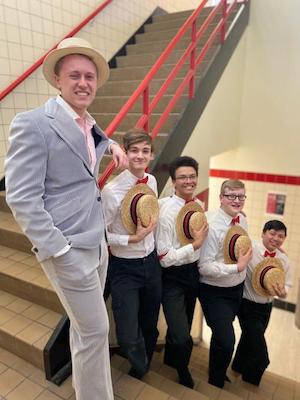 A great article ran in the Lincoln Journal Star announcing the Drama and Music departments at Lincoln High School will be presenting The Music Man. Please see this link for the details. Looks like fun and tickets are available!
.....
Our 1961 "The Links" Yearbook has been scanned by the LHS Library Media Center and is online in a pdf version. Click here for the 1961 yearbook; the 1960 book is also available. If the page doesn't open automatically you may have to have a newer version of Adobe Reader on your computer. Click here for the free reader download from Adobe. Scroll down to see every page. Prepare for the time warp!
.....
Click here for photos and memories of familiar old Lincoln places like Miller and Paine, Gold's, Gateway Mall, King's, Ken Eddy's, Valentino's, Tony and Luigi's, Runza and more. Janet Jensen Albers shares her memories of Ideal Grocery.
Thanks Sharon Dumler Gottscher and Les Williams.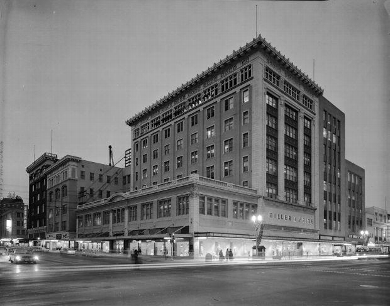 .....
Scroll down for photos of LHS Monthly Dinner at
Tico's, Thursday, January 2, 2020.
Thanks Cathy Stump Rauch for choosing and reserving
the 2020 monthly dinner schedule and taking photos.
.....
Scroll down to see new LHS dinner photos from January. Feb. and March locations are posted on the 2020 LHS Dinner Calendar. Stay tuned for more.
.....
LHS NEWS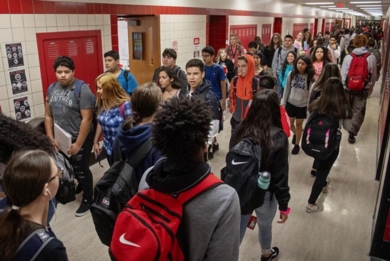 • NYT reporters were at LHS on the first day of school and later included the LINKS in a large feature that came out this week. Click here for 10/29 article in LJS. Click here for the entire "Roadtrip Across America, Patriotism" NYT article.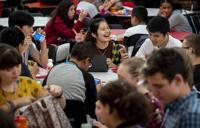 • Lincoln High now has the largest high school pupil enrollment in Lincoln - 2362 students representing more than 50 nationalities and speaking over 30 languages. For enrollment stats on all schools click here for the LJS article.
• Young Entreprenuers Club was formed recently at LHS in partnership with the University of Nebraska. The purpose is to give LHS students hands-on experiences in local businesses and to kick start their future working careers. If successful at LHS, the project may expand to the other Lincoln high schools. Click here for video coverage of the story on KOLN-TV.
• LHS Promotes Global Enrollment with Tee Shirt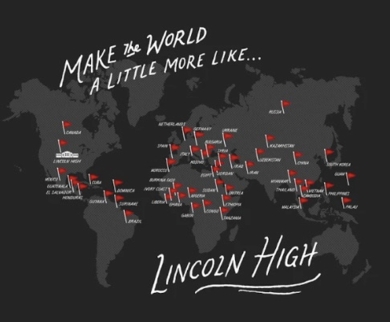 • "Kindness" is this year's LHS theme. See video below
• Click here and click on the sub tab "1960's" for a wonderful new source of LHS history brought to you by the Lincoln High Media Center Media Specialist Paula McClung and Carter Hulinsky, Media Technician and School Archivist. Links Yearbooks, 1961 Advocates, programs, photos and other information are being scanned and uploaded to the archives, so keep checking back on this link as it is further updated. Bookmark this link for future visits and enjoy!
Remember those tests we took at LHS in 1960 for Project Talent?
• Click here for a Washington Post article with some surprising outcomes about dementia. Many of you reconnected to the study sponsors at our 50th reunion, and also may have received a follow-up questionnaire. If you haven't returned it, they still want your opinions. Contact Project Talent for details.
• Lincoln High's many and varied programs are showcased in a recent article in the Washington Post. Again, the Links shine as one of 20 national Gold Star Schools of Opportunity. Click Here.
January 2018
Lincoln High Receives National Honor
As School of Opportunity!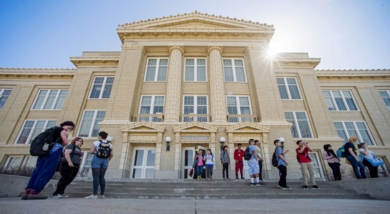 "Lincoln High School is one of eight U.S. public high schools honored as a "School of Opportunity" by the National Education Policy Center. The honor merited a mention in a Washington Post education blog "Answer Sheet," which has published the winners of the project for several years and which notes that the project recognizes public high schools that work to close opportunity gaps by "creating learning environments that reach every student."
Click here for 1/22/18 LJS article. Click here for School of Opportunity website.
Proud to be a LINK!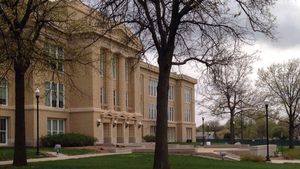 .....
Extra copies of the "Lincoln High School Class of 1961, Class Reunion Roster of Classmates" (20 pgs) are available for $5.00. It brings all classmate contact information up-to-date, as much as possible. Click on "Contact Us" to request a copy from Cathy Stump Rauch.
.....
PHOTOS OF THE LINCOLN HIGH SCHOOL 55TH CLASS REUNION
ARE NOW AVAILABLE UNDER PHOTO GALLERY, LEFT TAB
Here's a sample of the fun in the hospitality room.
• 121 Classmates & Guests attended our reunion at the Embassy Suites. Click here for final "Attendees" list.
• THANK YOU donors! Click here for list that is still being updated.
• Upload your reunion photos in Photo Gallery or send them to Donna Filbert Ewoldt. Contact Cathy Stump Rauch for a copy of the "55th Reunion Roster of Classmates"
LHS Gathering News
Please Join Us - Always Room for More!
2020 Monthly Dinner Schedule
Always first Thursday at 5 pm.
Due to larger groups, higher gratuities are sometimes requested.
April 2: Canceled.
Dinner schedule on hold for now!
May 7: Olive Garden at Gateway (back to dinner at 5 PM)
June 4: Mettle Grille, 1204 Park Dr., Hickman, NE
The list will be completed as reservations are confirmed! Stay tuned!
.....
Guys Dinner 2nd Wed., odd numbered months, 6 pm, Mulligan's, 56th & Old Cheney
Girls Dinner 3rd Thurs. every month, 5:30 Valentino's, 35th and Holdrege.
Please notify Shiela Thomas Alemzadeh to let her know you are coming!
See photos of all LHS Gatherings in "Photo Gallery" (left tab), under "Classmate Gatherings"
• • • •
March 5, 2020 LHS Monthly Dinner at Parker's Smokehouse
24 Classmates Attended
• • • •
October 17, 2019 Girls Dinner at Valentino's, 33rd and Holdrege.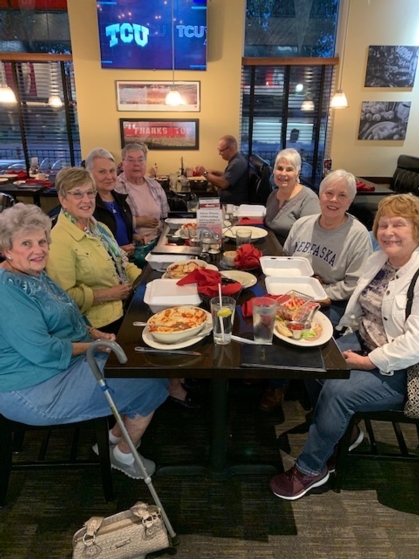 L to R: Donna Vinson Gielbelhaus, Donna Filbert Ewoldt, Cathy Stump Rauch, Mary Ann Meisner, Mary Gilbert Jorgensen, Karen Dahlbeck Nuttleman, Shiela Thomas Alemzadeh.
• • • •
February 6, 2020 Monthly Dinner at The Parthenon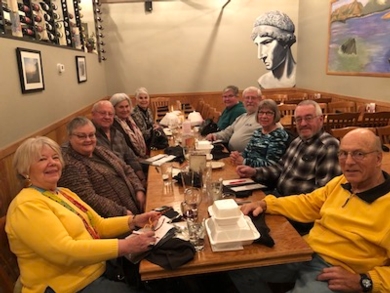 L to R: Janell Winsor Dreesen, Cathy Marker, Bob Marker, Cathy Stump Rauch, Mary Gilbert Jorgensen, Mary Ann Meisner, John Baker, Vi Marks Baker, Steve Davidson, Bob Dreesen.
. . . . .
March 11, 2020 Guys Dinner at Mulligan's
10 Guys Attended
Thanks Dave Drevo for supplying the photos.
.....
Click Here or on the Photo Gallery Tab for more "Classmate Gatherings".
......
We'd like your help to update our classmate contact information prior to our 60th reunion.
PLEASE pass along addresses, emails, cell phones, land lines and health status regarding our LHS classmates. Any phone calls you would like us to make, we will do gladly.
It has always been the goal to compile a complete class list. All LHS students who attended LHS for part or all of the years of fall 1958 through spring 1961. This list appears on this website under "Classmate Profiles". For most we have their address. But never sure if we're current. So please, pass along what you know. Any name with no symbol following it, is a classmate who has not joined the website.
Future LHS Class of 1961 Reunion plans will be sent via U.S. Mail to everyone for whom we have an address. The LHS Class of 1961 website may be accessed by any classmate with an email address. To join the website click on your name under "Classmate Profiles" and follow the directions. Much more class information is available and shared regularly on the website for those who would like to use it.
Click "Contact Us" - on the right, top of page.
Thank you!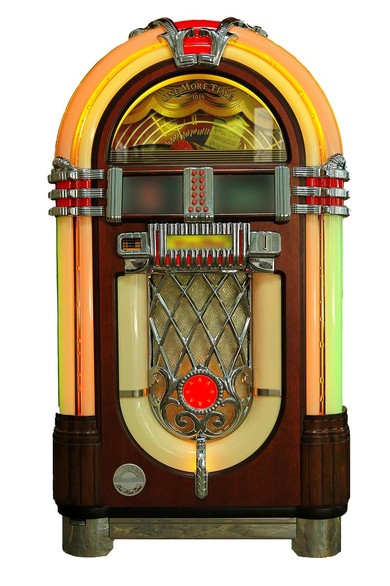 Thanks to Les Williams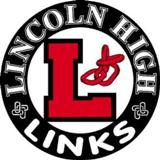 Lincoln NE Class Web Sites
Click on sites below for links to other class web sites or contact info.
We'd be happy to add other schools. Just send us the information.
"IN MY LIFE"
There are places I remember,
All my life, though some have changed,
Some forever, not for better,
Some have gone and some remain,
All these places had their moments,
With lovers and friends I still can recall.
Some are dead and some are living...
In my life, I've loved them all.
..."In My Life" written by John Lennon and Paul McCartney
Thanks to Betty Hunt Foster for sending this song.
Help Us Remember
HONOR AND CHERISH THE LHS CLASS OF 1961
Our mascot, the LINKS, exemplifies perfectly the idea of connection, reliance and trust. As time passes, these connections are strengthened through recalling our LHS days, reconnecting on our website to share news and photos.
In life and death, we honor our classmates. The "In Memory" section is dedicated to our deceased classmates. Here, we celebrate and pay tribute to their lives.
Your input is appreciated. Please click on "Contact Us" to reach Cathy Stump Rauch or Donna Filbert Ewoldt.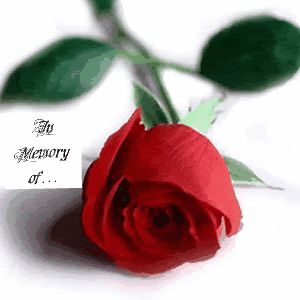 Thank you for sharing your personal stories about our deceased classmates on our IN MEMORY page. Your comments brighten the memories of those who have gone before us and help us to better connect with each other. We will always remember these special friends.
CLICK HERE for IN MEMORY page
• • • • •
Historic 1920 Photo of LHS