Lincoln High School


Class Of 1961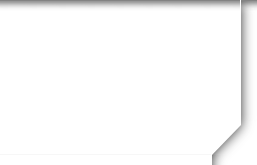 In Memory
Tom W. Beach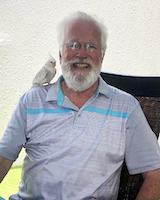 Tom W. Beach died on November 19, 2021 in Hot Springs, Arkansas. Tom's son, Michael, sent word through classmate Bob Bettenhausen. Services in Lincoln will be Friday, April 15, at Lincoln Memorial Funeral Home, 6800 S. 14th St., at 11AM. The family will host a luncheon after the memorial at Lazlo's at 56th and Highway 2. People will gather in the private diningroom at the rear of the restaurant.
LHS Class of '61 expresses gratitude to Tom's son, Michael, for providing Tom's obituary as it appeared in the Hot Springs Village Voice on December 7, 2021.
Tommie (Tom) Winston Beach passed away peacefully on November 19, 2021 at the age of 78. He was born in Fairbury, Nebraska on April 15, 1943 and was the youngest son of Gilder and Mildred Beach. Tom graduated from Lincoln High School in 1961 and attended the University of Nebraska. He was very passionate about Big Red football, and was the love of his life outside his family. Along with his parents, he was preceded in death by his older sister Janet (O'Shea) and his older brother Owen Beach.
Tom met his first wife Leilani (nèe Ring) in 1962 and they had three boys together, Michael Beach of Orange County, CA, James Beach of Boulder, CO and Matt Beach of Charlotte, NC. Tom spent his entire career in sales and was a million-mile traveler. He and his family left Lincoln, Nebraska in 1971 when he landed a position with the Carnation Company in Pittsburgh, PA. In 1974 he and his family moved to Wheat Ridge, CO where Tom spent nearly 20 successful years with the Playtex Corporation. Tom retired to Hot Springs Village, AR in 2005, where he loved to golf and fish with family and friends. He was an incredible scrambler and always seemed to make no worse than bogey on his scorecard.
Tom loved trout fishing, pheasant hunting, and golfing with his three boys. His favorite place to fish was Steamboat Springs, CO where he spent many summers camping and fishing with his family. Pheasant hunting in Nebraska over Thanksgiving and watching Big Red football with all his family and friends was one of his favorite pastimes.
Tom is survived by his three boys and seven grandchildren, Addie, Emma, Will, Lauren, AnnE, Luke and Grant, all of whom he was immensely proud of and loved dearly. Per Tom's wishes, he was to be cremated and part of his ashes will be interred at Lincoln Memorial with his mother, father, brother and sister in Lincoln, NE, and the remainder will be spread by family in his beloved Steamboat Springs, Colorado. He will be missed dearly by his family, but we know he's in a better place now with his mom, dad, brother and sister. Rest in Peace Dad.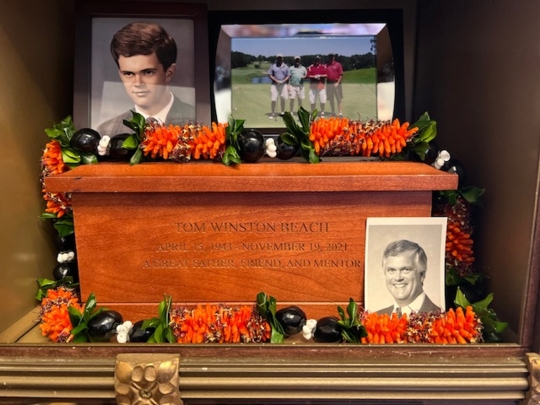 The Class of 1961 was well represented at Tom's service. The photo above is of his memorial niche near his parents in the middle building, Lincoln Memorial Park Mausoleum. A luncheon afterward was shared by family and friends at Lazlo's. His sons expressed interest in seeing Tom's "In Memory" page on our website so expect to see them added as temporary guests. Tom's ashes will also be spread in Colorado at a favorite place.