Lincoln High School


Class Of 1961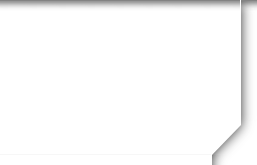 Not a member?
JOIN HERE
Find and click on your name.

UPCOMING BIRTHDAYS

Show More
WHO'S ONLINE NOW
No registered users are online right now.
MISSING CLASSMATES
Know the email address of a missing Classmate? Click here to contact them!
WHERE WE LIVE
Who lives where - select from the dropdown to find out.




Show Classmates on map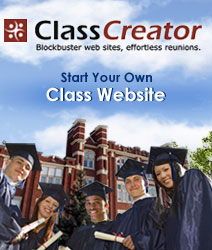 ANNOUNCEMENTS
Welcome to the Official LHS Class of 1961 Website
Since 2009 - over 189,400 Site Visits
.....
The "Thank You Donors" page (left tab, third down) has been updated with donations since the last reunion. We sincerely appreciate your generosity and thoughtfulness. Your donations are used to cover website & licensing and reunion costs enabling us, most recently, to host the upcoming 61st reunion of the 61st Class.
Thank You!
If you made a donation, please check to make sure your name is on the updated list.
.....
It is with sadness we report that our classmate, Don R. Thomas, died of Parkinson's on June 30, 2021 in Lincoln. Our Class of '61 condolences go to his wife, Carol and family. Click here for Don's "In Memory" page that has photos and an obituary. Comments may be left to further honor Don's memory.
.....
The highly sought after National High School Rodeo finally made it to Lincoln this past week after waiting a year due to Covid. It was the largest event ever staged at the Lancaster Event Center, 84th and Adams. Click here for several LJS article and photos. The financial impact on the city is estimated to be over 16 million dollars, more than 4 Husker Game Saturdays. There were 1592 rodeo contestants from 41 states, Hawaii, Mexico and Canada. Yee Ha!!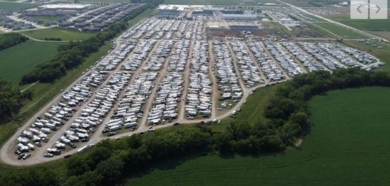 LJS photo showing 1200+ campers, truck and golf carts to help everyone navigate the distances.
.....
Gold's Department Store Redevelopment Scuttled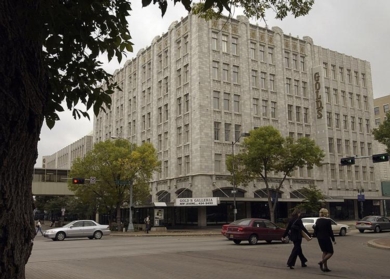 Building may be demolished. Click here for LJS article.
.....
On what would have been Mike's 78th birthday a memorial will be held. On Tuesday, August 3, 2021 Mary Anne Loos invites all of Mike's LHS friends to attend a 11:00 am Celebration of Life gathering at the WSI Hall, 1430 N.10th Street in Lincoln. There will be a short service followed by refreshments and time for sharing special memories of Mike.
.....
"Ruby Slippers"
Sunken Gardens Theme 2021
.....
Renewal Plans for Sharp Building at 13 & M Street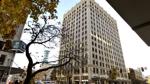 .....
Please Note: 61st Class Reunion is June 3-5, 2022 at Embassy Suites
Scroll down for dates, location for classmate dinners.
.....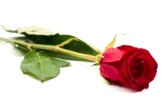 Through this website we are able to share information regarding Lincoln High School and our 1961 classmates. Hence, both good and sad information comes our way. The deaths of these 14 classmates (names below) coming all at once is a jolt. While checking our database for contact information prior to reunion mailings, Cathy Stump Rauch found these updates. We are honored to acknowledge their lives. Click on the names below for a link to their "In Memory" pages. You may further honor these classmates by adding your memories and comments.
Rest in peace classmates. We are remembering you.
.....
.....
August 5 Dinner and Reunion Planning Meeting
61st Class of '61 Reunion is June 3-5, 2022 (rev.) at the Embassy Suites
July 1, 2021 14 classmates were able to attend the July 1 gathering.
Notes:
1. A draft of the registration letter was discussed. The letter will include reunion details, a response sheet and a stamped envelope to be returned to us. It will include clear directions. This information will be mailed to all classmates at their current address as listed in our database or website profile. If you have a website profile, please make sure your contact information is current.
2. Bob Marker reported that his committee has settled an agreement with the Embassy Suites as the 2022 site of the reunion. He also talked about the reunion lodging and event details. All events except a possible LHS tour, will be held at the hotel. A shuttle is available for trips to Haymarket for other entertainment. The popular hospitality suite will be back again on Friday and Saturday, fully stocked and ready for company.
3. Donna Filbert Ewoldt reported that all reunion information will be on the website, including a running list of participants. Classmates are encouraged to use the "Message Forum" to send ideas or ask questions. Some former reunion photos will be periodically posted on the site and again, online registration will be possible.
4. Mary Gilbert Jorgensen reported the website will allow access to PayPal so classmates may pay their reunion registration or make a contribution there.
More classmate volunteers are welcomed and needed as the planning goes forward. Lots to do! You are encouraged to join in.
Photos from June 3, 2021 dinner/meeting at The Eatery
.....
Lincoln Children's Zoo just welcomed mother and daughter giraffes from San Diego Zoo. Click here for an LJS article about their new breeding program.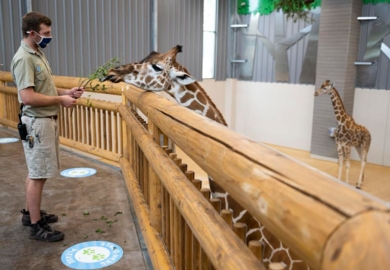 .....
Lee's Restaurant Takes a Hit!
Driver misses Coddington and West Pioneers traffic circle and boom!
Click here for LJS article.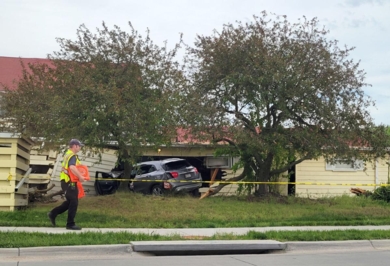 .....
The Shrine Bowl for outstanding high school football players was held in Kearney Saturday with the North team winning the defensive battle. Lincoln High's Isaac Montgomery put on the pressure that was key to their win. Click here for the LJS article.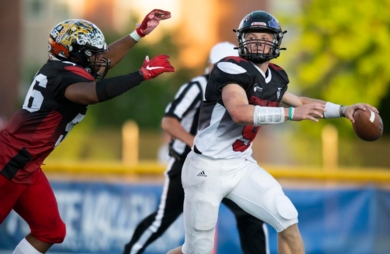 .....
Congratulations to Dajaz deFrand
For Winning Lincoln Journal Star Track Athlete of the Year
Dajaz DeFrand met her goal of winning the 100 and 200 yd dashes at the State Track Meet last weekend. Click here for the results at Burke Stadium in Omaha.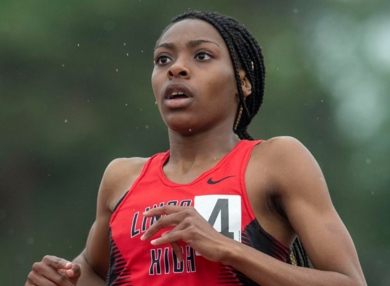 .....
Husker Men's Baseball Team Wins Big Ten Title
with big wins over Ohio State.
.....
Sadly we report the death of Carolyn G. Condon Walden on April 30, 2021. Our sincere sympathies go to her family and special friends. Click here for more details on her "In Memory" page.
.....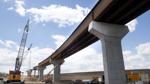 Finally after 25 years of planning and raising finances, 11 miles of construction is underway on the new South Bypass from Highway 2 on the east to Highway 77 on the west. Click here for LJS article and click here for project flyover video on YouTube supplied by State Highway Department.
.....
Scroll down to see slide show of LHS Picnic in the Park
May 6, 2021 Antelope Park.
Classmates (21) were happy to get out and see "old" friends.
.....
Jon Farrar, well known writer and photographer and husband of classmate Michele Angle Farrar, died March 30, 2021. Sincere condolences from the LHS Class of 1961 are sent to Michele and her family. An obituary and photo are posted on the "News and Concerns" page. Click Here. We thank Diana Perrin Ward for passing this news on to us. She worked with Michele at the Nebraska Game and Parks Commission.
.....
Oscar Best Picture Filmed in Nebraska
Oscar Best Picture, Nomadland was filmed partially in Scottsbluff at the Midwest Theater and the Western Sugar Cooperative, a sugar beet plant. The Oscar Best Director Chloe Zhao made two earlier films in Nebraska, both shown in Lincoln. Click here for the LJS story and photos.
.....
Plans Unveiled for Old Gold's Department Store at 12th and "O"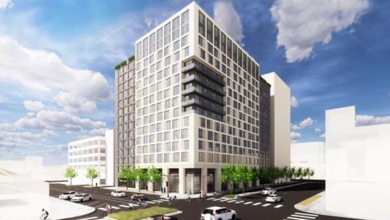 Click here for article.
.....
Offutt Air Force Base's 55th Wing joins Nebraska Air National Guard at Lincoln Air Force Base due to 150 million runway construction project.
Click here for LJS article.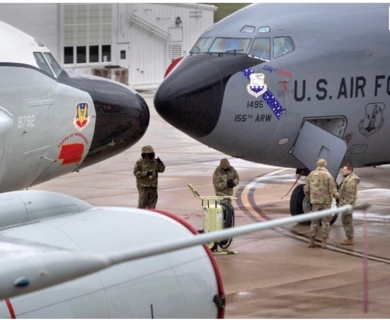 The Lincoln Air Force Base was established in 1952 to host nuclear bomber and intercontinental ballistic units. Many classmates who attended LHS lived at the base during that time. Click here for a link to the LAFB Museum website on our "Honor Our Veterans" Page.
.....
Adriana Miller, LHS grad, earns Fulbright to teach in Taiwan.
Click here for the story in Nebraska Today.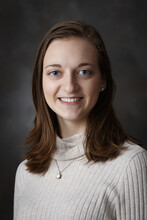 .....
Robber's Cave ... The Movie!
Robber's Cave is the subject of a new documentary film
with Dick Cavett as the narrator.
Tennesee director picks the cave as his next project.
Click here for the LJS story and photos.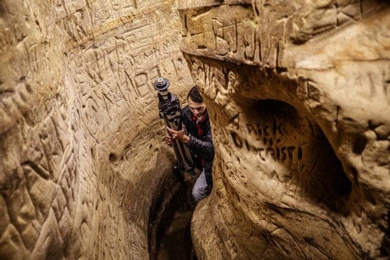 .....
LHS Gathering News
Please Join Us - Always Room for More!
2021 DINNER SCHEDULE RESUMES!
Always first Thursday at 5 pm.
Next Dinner Thursday, August 5, 5 pm, The Eatery, Van Dorn Plaza, 48th and Van Dorn.
Slideshow from May 6 Picnic in Antelope Park
.....
DINNER GROUPS ARE BACK!
Join classmates at these upcoming events!
Photos below from Guys Dinner, July 14, 6 pm, Mulligan's, 56th & Old Cheney. Next dinner second Wednesday, September 8, 6 pm, Mulligan's
Girls Dinner, 3rd Thurs. August 19, 5:30 Valentino's, 35th and Holdrege. Girls don't need a call. We keep calendars and talk to each other. Please notify Shiela Thomas Alemzadeh to let her know you are coming so she can reserve seats. Photo session for sure at this next dinner!
See photos of all LHS Gatherings in "Photo Gallery" (left tab), under "Classmate Gatherings"
• • •
We'd like your help to update our classmate contact information prior to our 61 + reunion.
PLEASE pass along addresses, emails, cell phones, land lines and health status regarding our LHS classmates. Any phone calls you would like us to make, we will do gladly.
It has always been the goal to compile a complete class list. All LHS students who attended LHS for part or all of the years of fall 1958 through spring 1961. This list appears on this website under "Classmate Profiles". For most we have their address. But never sure if we're current. So please, pass along what you know. Any name with no symbol following it, is a classmate who has not joined the website.
Future LHS Class of 1961 Reunion plans will be sent via U.S. Mail to everyone for whom we have an address. The LHS Class of 1961 website may be accessed by any classmate with an email address. To join the website click on your name under "Classmate Profiles" and follow the directions. Much more class information is available and shared regularly on the website for those who would like to use it.
Click "Contact Us" - on the right, top of page.
Thank you!
• • • • •
Historic 1920 Photo of LHS